Popular Pages
Categories
Categories
Brands
Brands
Shipping & Returns
Shipping Policy
Standard Order Processing
S3 Power Sports has selected FedEx and USPS as our small package preferred carriers, and Old Dominion Freight as our large package preferred carrier to offer a better experience for our customers. We will not use any other companies for shipping.
Customers are responsible for any extra duties and taxes that apply for shipments outside of the United States.
If there is any delay in production or shipping, you will be contacted by either phone or email with estimated delivery. S3 Power Sports is not responsible for delays in transit times.
Average Shipping Transit Map
via FedEx Ground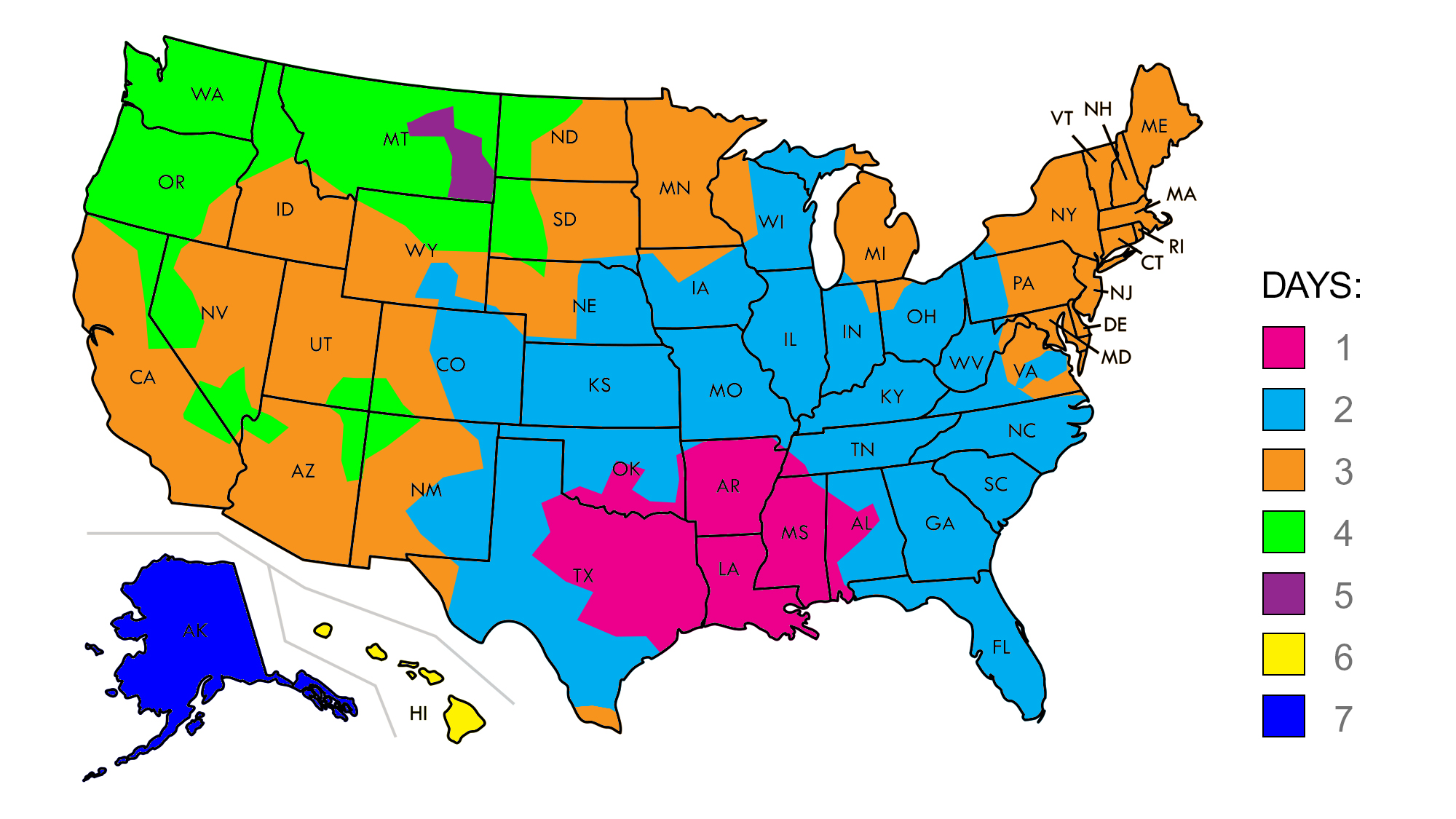 Fabrication Parts Order Processing
Please allow adequate time for custom fabrication parts to be built, powder coated, and shipped.
Lead Times define the maximum estimated amount of time required to prepare the item for shipping and may vary depending on product, volume of current orders, and/or build schedules. This includes fabrication, powder coating, packaging, and other preparation. In the event that Lead Times are delayed you will be contacted via email or phone call. Lead Times DO NOT include shipping transit times. All parts will be shipped as soon as possible after the initial Lead Time using your selected shipping method. If you select any form of expedited shipping, parts will be shipped via this method after Lead Time processing is complete.
If you require expedited fabrication and/or delivery, please Contact Us
Titan Axle Order Processing
We offer Free Shipping on Titan Axles to the 48 contiguous United States of America only. All other locations will be subject to regular shipping rates.
Return Policy
Standard Policy & Fees
Items may be returned up to 30 Days from Receipt. Items must be in new condition and never installed. All items will be returned for their full purchase value less 6% Credit Card Transaction Fees.
Additional Return Fees
The following circumstances impact S3 Power Sports' Standard Return Policy and incur additional fees:
If fabrication has started or been completed, a 20% Re-Stocking Fee will be charged instead of the 6% Credit Card Transaction Fees.

If the order has shipped, initial shipping costs will not be returned and customer is responsible for return shipping (both packaging and payment) to the address provided by S3 Power Sports.

Items must be in new condition, never installed, and un-damaged. If not, items may be returned at S3 Power Sports discretion, but the value of costs to return the item to new conditions will be deducted from the return value. Costs may include powder coating, re-fabrication or repair, missing hardware, etc.
Cancellation Policy
Orders may be cancelled at any point after initial confirmation until the order has shipped. Cancellations will be processed as returns and are subject to the full Return Policy & Fees
Return Procedure
Please Follow the Steps Below:
Customer must contact S3 Power Sports for an Return Merchandise Authorization (RMA) number. This number will be the same as your original invoice number.
The RMA number must be clearly written on the outside of the package.
Customer contact information and shipping information must be provided in the box.
Return the item to:



S3 Power Sports RETURN
1918 Barton Dr
Shreveport LA, 71107

Customer is responsible for return shipping (both return packaging and payment).
Upon receipt of the package, S3 Power Sports will inspect the item to confirm it meets all requirements for return and immediately contact you for any additional information.
Once the return has processed, please allow 3 - 5 Days for the transaction to post back to your account.
If you need any further information, Contact Us
UPDATED 06/11/18